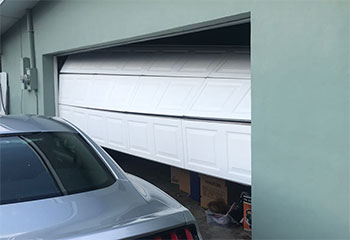 Garage Door Off Track
Customer Issue: Mr. Warren had accidentally bumped his garage door with his car. At first, he thought no harm had been done, but then he discovered that his door seemed to be stuck.
Our Solution: Our technicians determined that the garage door had been knocked off of its track from the collision. We clamped it into place to keep it from moving, as well as disconnected the opener, before prying the track open. Our team guided the rollers back into the track and closed it to confirm it would move smoothly.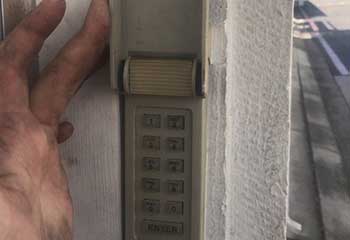 Opener Remote Control Failed
Customer Issue: The customer's remote controls stopped having any effect on his opener's behavior.
Our Solution: No hardware problem could be found in the handset itself, and the opener's antenna seemed to be in good shape. So, our team tried resetting the opener from factory defaults and reprogramming it for the door and handset. That solved the problem.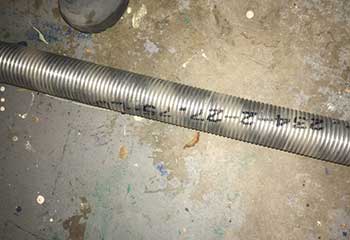 Broken Spring Replacement
Customer Issue: The customer's garage door spring had broken.
Our Solution: Our technician removed the broken spring and replaced it with a new heavy-duty unit. He then checked the door for balance and to make sure it was operating properly.
Cory Nicholson
- Alberhill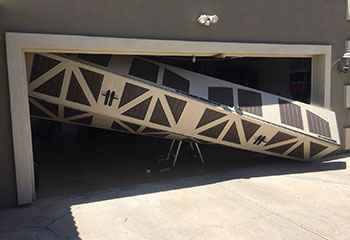 New Garage Door Installation
Customer Issue: Needed a new door.
Our Solution: This customer's old garage door was beyond repair so she called us to order a new one and to schedule the installation. We offered her several options and she selected a new model from the Amarr® Lincoln collection. We installed the new door for her and made sure she was completely satisfied with it before leaving.
Gillian Berg
- Lake Elsinore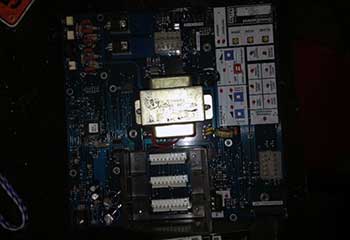 Genie Opener Repair
Customer Issue: Opener not working.
Our Solution: This customer wanted us to fix her Genie Chainmax 1000 chain-drive garage door opener which had stopped working unexpectedly. During our inspection we found that some of the circuit board's wires had come loose. We reattached the wires and tried the unit again. It was fully operational, so we lubricated the chain just to make sure it was able to continue working efficiently.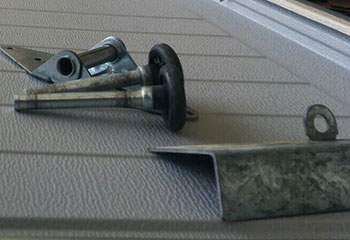 Roller Replacement
Customer Issue: Damaged rollers.
Our Solution: We inspected the door to find what was causing it to get stuck and immediately saw that a couple of rollers were damaged. We replaced them with new ones and lubricated them all to keep their performance more efficient.
Ursula Frank
- Lake Elsinore