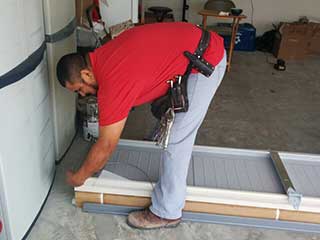 If your garage door is malfunctioning, you'll probably want to get it fixed as soon as possible. A door that won't budge can be really tricky to deal with – it's the last thing you want to be dealing with when you get up in the morning and need to get to work. This is exactly why our team works hard to carry out repairs quickly with minimum disruption to your daily life.
Fixing The Underlying Problem
Our technicians don't just treat the symptoms of a broken door. They work to identify the root cause of the issue, and then get to work to solve it. This way, you'll avoid having to confront the same problem developing time and again. We make sure that once it's fixed, it stays fixed.
Repairing Knock-On Damage
When one part of a door system starts to fail, this can cause damage to other load-bearing components. This is why our technicians always carefully inspect each element of your door to catch any potential further problems before they arise.
Professional Maintenance Services
It's common for garage door parts to wear and tear over time; however in many cases malfunctions can be delayed or avoided with regular professional maintenance. During a service visit, our technicians will make sure that your door is properly lubricated and adjusted.
Thorough System Testing
It's essential to us that we ensure your door is working perfectly before we leave. That's why our specialists always carry out in-depth testing before finishing a job. We want to be certain that everything is moving smoothly before we leave your property!
Contact Our Professional Team Today
Whatever problem your garage door has, our team of professional experts will be able to solve it - we'll work quickly and reliably to carry out lasting repairs that you can trust. Contact us today to find out more and to arrange an appointment.
Want more? Let us take care of:
Part Replacement & Repair
Garage Door Remote Clickers
Oil Tempered Torsion Springs
Torsion Spring Adjustment