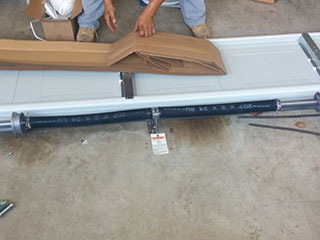 Garage doors are heavy pieces of equipment, often weighing 200 pounds or more. This weight primarily rests on the springs, which do all the heavy lifting each time your door cycles up or down. These units have a limited lifespan and will wear out over time - it's not a question of if you'll need to replace your springs, it's a question of when.
Should I Replace My Springs?
If your door is wobbling when it moves, or sagging, then it might be time to have our technicians come out and provide a replacement. Loud squealing noises are also a potential indicator of a worn-out spring. A good way to test the strength of these components is to gently pull on the door when it's halfway open (be careful when doing so). The door should strongly resist you; if it doesn't, then the springs are significantly weaker than they should be.
How Long Will They Last?
One of these heavy-duty torsion springs can last from anywhere between 3,000 to 10,000 cycles. The lifespan depends on two main factors - firstly, the quality of the spring. Cheap, low-quality springs will likely wear out quicker than those parts sourced from brands that known and trusted.
Professional Maintenance Services
The second key factor in the lifespan of a spring is how well it's looked after. A spring that's regularly lubricated and balanced to ensure even tension will last longer than one that's neglected. Our technicians can ensure your springs are in good working order, and will make you aware of any potential problems. Don't be tempted to work on these components yourself - they store a lot of tension and can be dangerous if not handled by trained professionals.
Contact Us Today
If you need a replacement quickly, or you're looking for expert maintenance services, Garage Door Repair Lake Elsinore can help. Contact us to arrange an appointment!
Looking for more? We also offer:
LiftMaster Chain Drive Lubrication
Genie Garage Door Opener Services
Galvanized Torsion Spring Replacement
Extension & Torsion Spring Replacement